If the evocation of its name makes many people salivate, couscous – originating from North Africa – has become, in a few years, one of the most popular dishes in France. The word refers to the wheat semolina, as well as the dish made of this steamed seed, accompanied by meats, dried and fresh vegetables, and served with a spicy broth. It comes in many versions, depending on the country. In Morocco, it is served with long-cooked onions and raisins, in Tunisia a marine version is prepared with fish balls, in Sicily it is also served with rock fish; in Algeria it can be simpler and sometimes even without broth. A vegetarian version, with herbs, spices and aromatics, is known for its stimulating and aphrodisiac virtues; and it is also eaten sweetened. When it is a holiday, it becomes royal with merguez, keftas, chicken, lamb and vegetables. In all cases, and in all versions, it remains a popular dish of sharing and tradition that is placed on all tables on Fridays in Morocco and Algeria and accompanies all celebrations. Wheat can be replaced by barley and, when one goes deeper into the African continent, couscous is prepared with fonio or millet, more local cereals.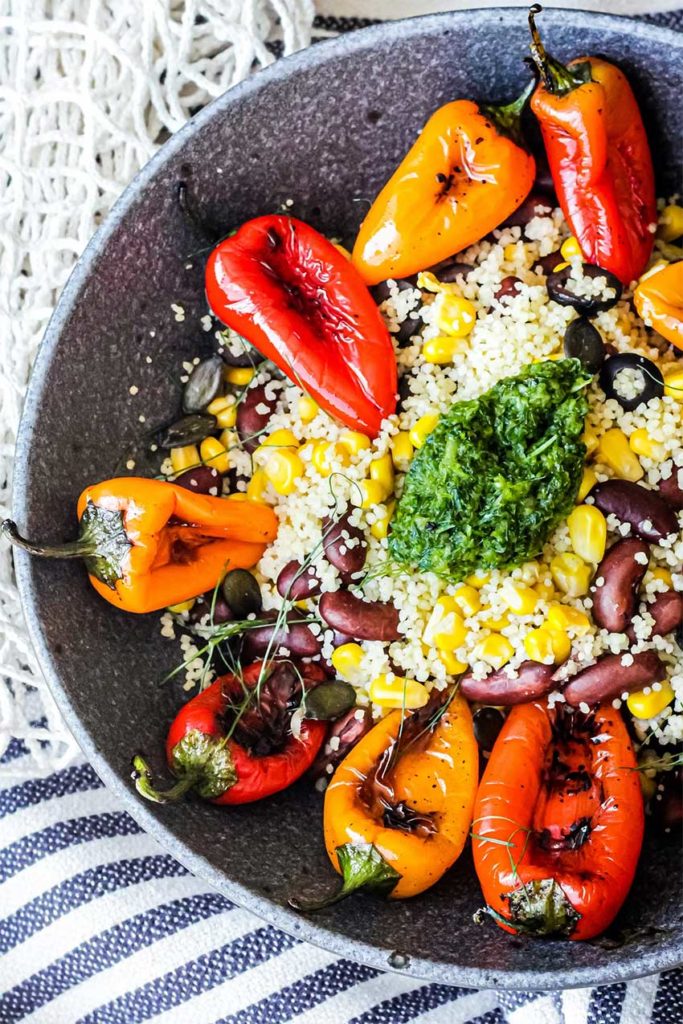 A small seed that has made its mark
It is undoubtedly in the western and central Maghreb, among the Berbers and in the Middle Ages that the recipe took root, before spreading to the eastern Maghreb, then to Sicily, Spain… Among the nomadic peoples of the time, couscous semolina was a means of preserving hard wheat. Several travelers' writings mention it, like the one of the Flemish Anselme Adorne, merchant and diplomat who travelled the East with his son. The latter described their pilgrimage and, in particular, a lunch in Tunis in 1470 "at a Moor's, outside Tunis, in his country house… the evening snack consisted of a large dish filled with a dough that looked like rice; this dough is made with wheat flour: this dish is called "couscous"; it is commonly consumed in the country, and it is considered a delicate, nourishing food that can make you fat. We have seen it prepared several times… On this dish, couscous, were placed pieces of meat and chicken wrapped in cabbage. They take from this dish with their five fingers, and they form with their hand a ball that they project in their mouth ". Upon their return to France, the pieds noirs of Algeria contributed greatly to its popularity, bringing the recipe back with them.
COUSCOUS WITH MEAT AND VEGETABLES

FOR 6 PERS. – PREPARATION 35 MIN – COOKING 45 MIN – EASY – CHEAP
500 g of couscous seeds – 800 g of lamb neck or 1 chicken – 4 carrots – 4 potatoes – 4 zucchinis – 2 peppers – 2 turnips – 1 onion – 1 stalk of celery – 1 can of peeled tomatoes – 1 can of cooked chickpeas – 3 tbsp. tablespoons of tomato paste – 4 tablespoons of harissa – 2 tablespoons of couscous spices (cumin, sweet pepper, paprika, coriander, ginger…) – 2 tablespoons of olive oil – 1 stock cube – Salt – Pepper
Wash, peel and chop all the vegetables. Peel the onion, chop it and fry it in olive oil in a large casserole. Add the chopped meat and brown it on all sides for 5 minutes.
Coarsely chop the tomatoes, pour them into the casserole with their juice, the concentrate and the spices. Add the vegetables, season and cook for 5 minutes. Cover with 1,5 l of water and the cube, put a lid on and let cook 40 min.
Take out the vegetables halfway through the cooking time so that they are not overcooked. Put them back in 10 min before the end, with the rinsed and drained chickpeas.
Arrange the cooked couscous in 1 dish (see our box, opposite page) surrounded by meat and vegetables. Serve the broth and harissa on the side.
OUR GOOD Pairing: a red Côtes-de-Provence.
SWEET COUSCOUS WITH POMEGRANATE AND POMELO

FOR 4 PEOPLE. – PREPARATION 20 MIN – NO COOKING – EASY – CHEAP
3 glasses of fine couscous seeds – 1 pomelo – 1 pomegranate – 1 orange – 25 g raisins – 25 g dried cranberries – 30 g powdered sugar – 5 cl orange blossom or rose water
Place the couscous seeds in a bowl. Pour 2 large glasses of hot water over it. Mix and let it swell. Rinse the raisins and cranberries with hot water and let them soak in the flower water.
Peel the pomelo. Remove the rind and membrane and "flake" it a little. Cut the pomegranate in half. Place each half under a bowl, seed side up. Using a wooden spoon, tap the rind. The seeds will come out very easily. Squeeze out the juice from the orange. Mix it with the sugar.
Pour it over the couscous seed. Add the flesh of the pomelo, the dried fruits and the pomegranate seeds. Mix gently and place the bowl in the refrigerator for at least 2 hours before serving. You can add some mint leaves and toasted almonds before serving.
TIP: There are many possible combinations, banana/coconut, nuts/grapes, dates/dried apricots…
–
Cook in France is your guide to finding your cooking class in France.