COOKING CLASS IN BESANCON
Take a cooking class with a Michelin-starred chef near Besançon. Jean-François Maire invites you into his culinary workshop to guide you in a relaxed atmosphere, in the preparation of dishes worthy of the big tables. Reveal your talents and easily reproduce recipes at home to impress family and friends with this cooking class with a Michelin-starred chef near Besançon.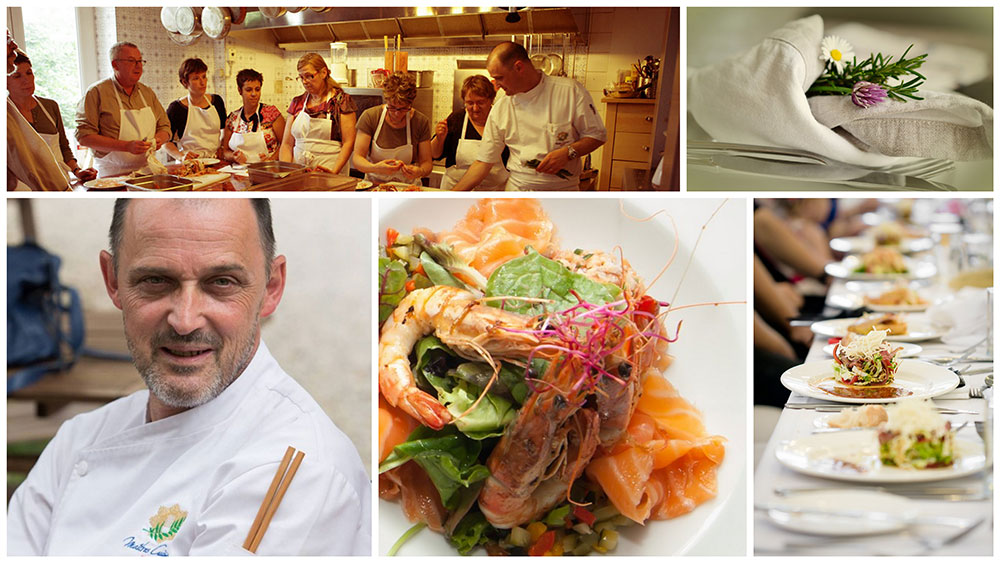 2 options for this cooking class in Nice
1/ Private cooking class in Nice

The cooking class is just for you. the class is privatised for yourself and up to 4 people. As it is private, the class is done exclusively in english and at your selected date.
Price: 400 euros for up to 4 people
2/ Cooking class in small group
This cooking class is set-up by the chef, and will reunite various people who have bought this class. The dates are picked up by the chefs and you can select one of the dates, but it may not be the one most suitable for you. Also, the cooking class is done in english, and in french, as there may be french people in the class as well. If this is ok with you, this is a cheaper version of the private cooking class.
Price: 89 euros per person
When in small groups, you can be up to 9 people.
Enquire below for dates.
COOKING CLASS IN BESANCON – THE CHEF
Jean François Maire 'Master Chef of France' chef for over 30 years, Michelin star restaurant at the restaurant Le Valentin since March 2006. He currently manages the Culinary Academy where he develops various activities around gastronomy, cooking classes for individuals, and catering for groups
He shares a passion for food, and the best way to do that is through his cooking class in Besançon.
COOKING CLASS WITH A MICHELIN AWARDED CHEF IN BESANCON
Discover the best secrets of a Michelin-starred chef. See you at Ecole Valentin for your cooking class of 3 hours. The cooking class begins with a presentation of the menu of the chosen day
Presentation of ingredients and useful tips for buying quality products.
Preparation during which, the starred chef, Jean-François will share with you his taste for good things and you will discover all his expertise that will make your daily work easier.
Tasting of your gastronomic compositions at the end of the course.
Back home, you will have forgotten your initial apprehensions and will be ready to easily reproduce the proposed menu of what you have done during this cooking class in France.
COOKING CLASS IN BESANCON – THINGS TO KNOW
Dates
This cooking workshop with a Michelin-starred chef in Besançon is feasible all year, in the evening.
Location
Ecole Valentin, Doubs, 25, Franche-Comté, France.
Besançon (6km).
COOKING CLASS IN BESANCON, EASTERN FRANCE – ENQUIRE