COOKING CLASS IN NICE
Take a cooking class in Nice. Learn how to concoct real delights alongside the chef who welcomes you in a nice "kitchen-apartment". Relaxed atmosphere for this cooking workshop in the French Riviera where you will learn the simple gestures that will turn your meal into a moment of pleasure. Because cooking and eating are pleasures that are appreciated at all ages, enjoy this cooking class in Nice to learn how to make original dishes.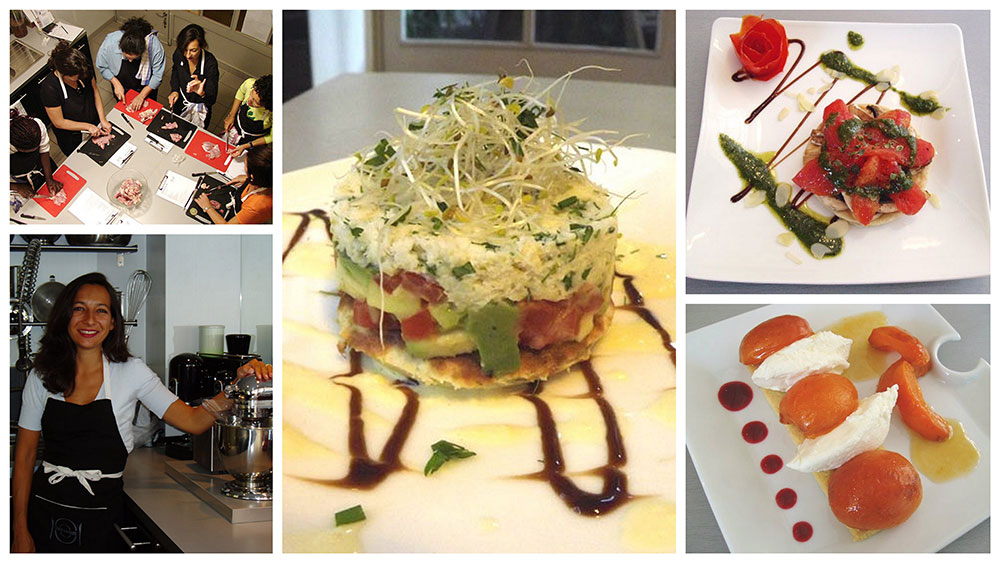 2 options for this cooking class in Nice
1/ Private cooking class in Nice
The cooking class is just for you. the class is privatised for yourself and up to 3 people. As it is private, the class is done exclusively in english and at your selected date.
Price: 650 euros for 2 people, 740 euros for 3 people
2/ Cooking class in small group
This cooking class is set-up by the chef, and will reunite various people who have bought this class. The dates are picked up by the chefs and you can select one of the dates, but it may not be the one most suitable for you. Also, the cooking class is done in english, and in french, as there may be french people in the class as well. If this is ok with you, this is a cheaper version of the private cooking class in Nice.
Price: 85 euros per person
When in small groups, you can be up to 8 people.
Enquire below for dates.
COOKING CLASS IN NICE – THE CHEF
Rich of her experiences (over 20 years), her many trips and stays abroad, Aude decided to share with others his passion, which is cooking. She wants to pass on her knowledge and experiences to gourmets and thus be able to democratize gourmet cuisine and home-made food so that everyone can enjoy the art of cooking.
Pushed and encouraged by her family and friends, she decided to open in January 2006 her kitchen shop and a cooking workshop in Nice (her hometown).
With her leadership skills, dynamic and "no frills", she will guide you on the path of the meal both simple and original.
And you will be able to achieve easily and in a short time meals out of the ordinary and surprise your entourage effortlessly.
COOKING CLASS IN NICE
Cooking classes for everyone, in a relaxed and friendly atmosphere, it is now possible!
Close to the big market of Nice, enter the dynamic world of the chef who will make you discover, during 3 hours, the art of good cooking: equipped with all the necessary equipment and fresh products chosen by the chef, you will prepare a complete meal around a theme, a product or a menu depending on the season.
During the course, you will be able to share your ideas and ask questions. Gourmet and gourmet, always looking for novelties and full of ideas, the chef will share with you her knowledge, her tricks, and how to succeed your dishes every time without spending hours in the kitchen.
Then, for the discovery to be complete, you will sit down to taste your creations, accompanied by a suitable wine.
This is the perfect cooking class in Nice, in the French Riviera
COOKING CLASS IN NICE – THINGS TO KNOW

Dates
This cooking workshop in Nice is feasible all year long, from 9h to 12h or from 15h to 18h
Location
Nice, Alpes-Maritimes, 06, PACA, France.
COOKING CLASS IN NICE – ENQUIRE