COOKING CLASS IN VALENCE
Enjoy a cooking class in Valence in the South of France at Scook Anne-Sophie Pic School in the Drôme. In the famous school of Anne Sophie Pic, 3* at the Michelin, in the center of Valence, follow a cooking class to learn the basics and techniques of gastronomy while making you happy. Take a seat alongside the chef in the heart of modern and fully equipped kitchens. Traditional cuisine, vegetarian or around a fresh and seasonal product, have a good time sharing in a friendly and warm atmosphere. This cooking class in Valence is for beginners and passionate amateurs alike.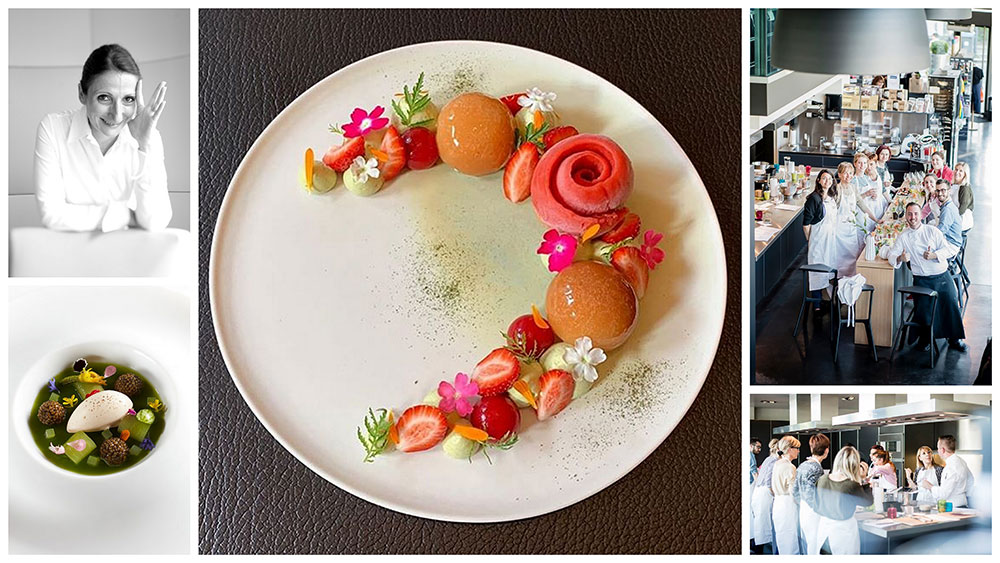 COOKING CLASS IN VALENCE
This cooking class is done privately
The cooking class is just for you. The class is privatised for yourself and up to 8 of your friends. As it is private, the class is done exclusively in english and at your selected date.
Price: 625 euros for up to 8 people, for a 1h30 cooking class – or 1110 euros for up to 8 people for a 3 hours cooking class

Enquire below for dates
COOKING CLASS IN VALENCE
Rendez-vous in the heart of Valence, in the famous Scook cooking school Anne-Sophie Pic who is chef 3 *, to follow a unique culinary workshop.
Discover a bright space with modern and fully equipped kitchens and, in a friendly atmosphere, put on your apron to start your cooking class in Valence.

Take a seat alongside the chef, a member of the Michelin-starred Anne-Sophie Pic team, and discover the recipe of the day. Prepare your ingredients and, depending on the course chosen, prepare a main course, a complete menu or make several recipes around a unique product such as foie gras or fish.
Follow the advice and instructions of the chef: use the right utensils, watch the cooking of your dishes and add the seasoning … All these tips will allow you, later, to make the recipes easily at home to treat family and friends.
At the end of this cooking class in Valence and according to your chosen course, take your preparations home/hotel or sit around the stove to enjoy them accompanied by a glass of wine.
We offer 2 formulas depending on the duration:
Cooking class in Valence 1h30 with several themes according to calendar, examples:
-Focus on a fish, the place
-Special fresh pasta
-Apero chic version Pic
-My homemade sauce
-Cap to Asia

Cooking classes in Valence 3h with several themes according to calendar, examples:
-Menu of season
-International cuisine
-The fish in 3 versions
-The stuffed
-Aperitif dinner
-Kitchen trompe l'oeil
(Lists not exhaustive)
COOKING CLASS IN VALENCE – THE INSPIRATION – ANNE SOPHIE PIC
To understand the cuisine of Anne-Sophie Pic, you have to understand the woman. She is passionate, sensitive, free and willing. Her career shows a strength of character out of the ordinary because it took her a lot of conviction, perseverance and faith to impose herself as a self-taught woman in a resolutely masculine universe.

She came to the kitchen guided by her sense of smell and her palate. When she enters the kitchen, she has only her intuition and emotions to help her build her dishes. Technique, she learns it by practicing. And this gives her immense freedom, that of associating tastes, of creating a style, of seeking balance and justice in everything.

In fact, Anne-Sophie Pic is always in motion. She is in perpetual quest of associations of new flavors, complex. She likes to look for tastes that are not consensual like bitter, acid, iodine, roasted, smoked … to tame them. She works the products unloved or neglected as beetroot, turnip or cabbage.
Anne Sophie Pic is one of the rarest woman chef to be awarded 3 stars at the Michelin.
COOKING CLASS IN VALENCE – THINGS TO KNOW
Dates
This cooking class in Valence is feasible all year round.
Several classes / month, from Tuesday to Saturday.
School closed 2 weeks in January and 2 weeks in August (variable dates).
Location
Scook School, Valence, Drôme, south of France
ENQUIRE